SUNDAY SCHOOL: KING'S QUEST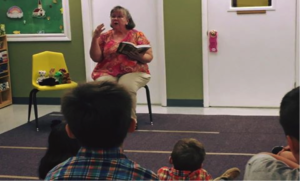 We decided to rename 'Sunday School' since it sounded too much like work and not enough like an adventure! Our new name is King's Quest. Since Jesus was the King of Kings and we are His brothers and sisters in Christ, that makes us all royalty!
Preschool thru 1st – Squires
2nd & 3rd – Knights
4th & 5th – Nobles
Every Sunday kids are dismissed from the 9am Service after Praise and Worship to join us on the King's Quest. During that hour kids from Preschool – 12th Grade learn age appropriate lessons and participate in hands on activities which introduce them to the amazing and unending love God has for each of them, and the relationship He wants to have with them. Kids learn stories from the Bible and how those stories are relevant in their lives today. Most importantly, kids will come to know, trust and follow Jesus as they grow and develop spiritually.
We keep our kids safe by requiring all our teachers and volunteers to undergo background checks and adhere to our Safe Sanctuary program.
Through Biblical stories from Egypt to Israel and Babylon to Jerusalem, we strive to build a firm foundation of faith that will serve our kids for a lifetime!