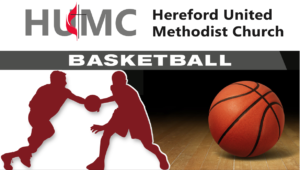 Hereford UMC Basketball 2018

We have been teaching Basketball at Hereford UMC for the past 7 years. Our program is a "One of a kind", that offers beginner and advanced skill levels for all ages. We are conveniently located at the corner of Monkton Rd and York Rd and offer 1 hour practices and 1 hour games with an open kitchen for a variety of food options for today's busy families. We teach teamwork and sportsmanship in a very friendly family environment where every player participates in practices and games.
Here at Hereford UMC, we offer Hereford UMC Basketball as an alternative to the highly competitive recreation and travel leagues that consume so much time and travel – where children and youth can have fun, learn skills, character, teamwork and God's love while practicing and playing in games that focus on sportsmanship and fun!
Season ~ January 8, 2018 – March 31, 2018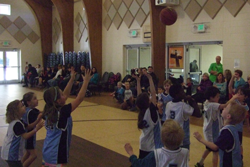 Our Hereford UMC basketball league is co-ed (teams are made up of both boys and girls), and open to Kindergarten (5 year olds) through 12th grade. All practices and games will be held at the HUMC Family Life Center.
Bring or mail registration fee to:
Hereford United Methodist Church
Registration forms
may be dropped off at the church office (16931 York Road) between 10 am and 2 pm – Monday through Thursday
Registration Information:
The registration cost per child for basketball is $ 30.
Deadline for registration is January 13
Checks – Please make checks payable to HUMC, attention HUMC Basketball.
Evaluations:
Everyone must attend one basketball evaluation. They will take place at the
Family Life Center as follows:
K5 through 12 Grade Boys/Girls
Monday, December 18, between 6 PM and 9 PM
Tuesday, December 19, between 6 PM and 9 PM
Thursday, December 21, between 6 PM and 9 PM
Saturday, December 23, between 9 AM and 2 PM
Program Schedule:
First Practice – Monday, January 8, 2017
First Game – Saturday, February 1, 2017
Awards Celebration – Saturday, March 31, 2018
For More Information:
Our program is for the whole family – including Moms and Dads! There are many volunteer opportunities – coaching, referees, helpers – where you can spend time with your children and others! Pass on this information to your family, friends, and neighbors!!!
If you would like to volunteer or if you have any questions, please contact our program Director, Frank Valenti at:
fvalenti3@gmail.com or 443-465-6230