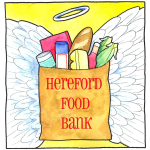 The Hereford Food Bank is an all-volunteer operation and 100% of donations of both food and funds go toward fulfilling our mission to help those in need within the Hereford Zone. Due to confidentiality, our volunteers must be over 18, unless they are just packing bags or organizing shelves.
Hard times can fall on us all, but your neighbors at the Hereford Food Bank strive to provide a small safety net when you are in need.
OUR SERVICES:
The Hereford Food Bank provides the following free services for residents of the Hereford Zone*:
A bag of groceries per family per week containing ingredients for at least 3 full days of meals including eggs and fresh vegetables (as available) [larger families get 2 or more bags].

Detergent and hygiene items on a monthly basis or as needed.

Heating OR Housing assistance once per year for clients – a copy of the bill is required.

Referrals to appropriate social services and government agencies.

Special Holiday Feast bags at Thanksgiving, Christmas and Easter
There are no income limits or restrictions. If you need our services for a month or for a year, we are here for you. Our goal is to keep families together during hard times, feed them with food and hope, and show them compassion while maintaining their dignity.
21105 Maryland Line 21152 Sparks
21111 Monkton 21053 Freeland
21120 Parkton 21155 Upperco
21131 Phoenix 21161 White Hall
21102 Millers 21023 Butler
* Proof of residency required
The Food Bank is open to receive clients and donations:
Tuesdays and Thursdays 1:00pm – 3:00pm
Saturdays: 9:00am-11:00am
HOW YOU CAN HELP:
FOOD DONATIONS:
Drop off non-perishable, unexpired food, cleaning and hygiene items at the Food Bank during regular operating hours (see above).
Checks made payable to The Hereford Food Bank should be sent to:
Donations may also be made electronically at
(select 'Give Online Now' then select 'Hereford Food Bank' in the dropdown box)
Looking for student service hours or a Scout project? Organize a Food Drive at your school, church or community! Contact the Director for more information.
BOXED AND DRIED GOODS:
scalloped/au gratin/mashed potato mixes
rice and rice mixes
noodles and pasta
CANNED BEANS , VEGETABLES & FRUIT
BREAKFAST ITEMS:
cereal/oatmeal
pancake mix/syrup
STAPLES:
peanut butter/jelly
flour/sugar/salt/spices
juice/juice boxes
CANNED MEATS:
tuna/chicken
beef stew/chili
DESSERT ITEMS:
cake/cookie/muffin mixes
jello/pudding
HYGIENE ITEMS:
Soap/deodorant/shampoo/toothpaste/shaving items
toilet paper/diapers
detergent/cleaning supplies
**All donations should be standard sizes — no bulk items or jumbo sizes.
Jennifer Jahromi, Director