Why We Give
Our hearts are filled with gratitude and thanksgiving to God for giving us His Son, Jesus Christ, to save us and give us abundant life!
Giving reflects the heart and intentions of God, so we generously give to be more like Him.
Giving is a very practical and tangible way to honor God for who He is and all He has done for us.
Giving is a key to not only having our needs met by God, but also meeting the needs of others.
Giving is the mark of a growing Christian who is being transformed from "a taker " to "a giver."
Giving releases the resources of God in our lives and opens the doors to God's miraculous provision for His Church.
Through your contributions, you empower people in your community with the resources to help change peoples lives through the power of Christ!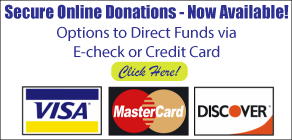 Online Giving allows you to give via our website using a credit card, debit card, or bank account information. This option allows you to make a one-time contribution or you may create an account and set up recurring scheduled payments. You are also given the option to select specific designations for your online gifts. All payments processed through our website are secure.
Checks and cash can be placed into the offering plate during Sunday services or checks can be made payable to HFNL

and mailed to our administrative office
Hereford Faith & Life Church