Traditional Service
(rotates with Traditional Service every other Sunday)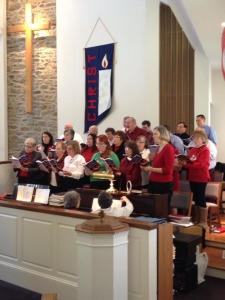 Come and worship God in a traditional service of worship. This service uses the United Methodist Hymnal, traditional liturgy, and utilizes our gifted Chancel Choir and Hand Bell Choir.
During Covid we are meeting in our Family Life Center with only selected members of the choir performing.
Special Services include: Ash Wednesday, The Last Supper Re-enactment on Holy Thursday, Good Friday, Thanksgiving Eve, The Hanging of the Greens, Christmas Eve Candlelight Service, and others! **During COVID, please check with the office regarding Special Services.
Holy Communion is served on the first Sunday of the month.