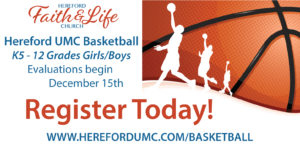 2019 HUMC BASKETBALL PROGRAM INFORMATION
We have been teaching Basketball at Hereford Faith and Life Church for the past 8 years. Our league was created as an alternative to Rec league. We felt a need to help youth in our community who wanted to play, but were not "good enough" for Rec and provide a more positive atmosphere where kids could learn to have fun playing a game.
We started as an Upward Basketball League, because Upward was a great source to get our league structured and organized from the ground up. We have a great reputation in the community as the alternative league. Along the way we also found that there was another need for more advanced training for the advanced players. So as not to dilute or degrade the original Upward rules and playing system, we have changed over to Hereford UMC Basketball so that we could tailor our league to address significant changes to our teaching levels.
Hereford UMC Basketball offers a unique program that teaches skills and techniques for beginner and advanced players. We offer basic principles for beginning players and advanced skills and drills for experienced players. We are not affiliated with any Rec/travel/club program, so that gives us the flexibility to adjust our program yearly and tailor it to fit the needs of each season. That is the major difference the separates us from any league!
Our HUMC Basketball is co-ed (teams have both boys and girls) and open to K (5 year olds) through 12th grade. All practices and games are held at our Family Life center (located in downtown Hereford at the corner of Monkton and York Rds). We play 4 on 4 during games to give youth more playing time and create team cohesion. Our team sizes are usually 6-8 players, to allow for more one on one teaching and help youth stay focused during practices. Our coaches do their best to make sure all players at all levels, learn the rules and skills to compete at any level. We teach teamwork and sportsmanship in a very friendly family environment where every player participates in practices and games. Where the most important thing is to be a great person rather than winning a game!
For convenience, we offer food and refreshments at every practice and during all game days at our kitchen facility. Our practices and games are exactly 1 hour and practices and most games are the same time each week. For flexibility if you miss a practice, you are welcome to attend any other practice during the same week (all teams practice the same skill sets during the same week). You are also invited to attend as many practices as you want to improve skills. During game days, if you cannot make your scheduled game, you are welcome to attend another team's game (in the same skill group) as an additional player.
Here at Hereford Faith and Life Church, we offer HUMC Basketball as an alternative to the
highly competitive rec and travel leagues that consume so much time and travel – where
children and youth can have fun, learn skills, character, teamwork and God's love while
practicing and playing in games that focus on sportsmanship and fun!
Season
~ January 7, 2019 – March 31, 2019
Registration:
The registration cost per child for basketball and new jersey is $45.00.
If you use last years jersey registration is $35.00.
Deadline for registration is January 11, 2019.
Payment Options: Checks or Credit Cards

– Please select the appropriate button below.Credit Cards – VISA/Master Card/Discovery. Make checks payable to HUMC, attention HUMC
Basketball.
Online Registration – $35 (Will Use Previous HUMC Basketball T-Shirt)
Online Registration Only (Payment by Cash or Check)
Bring or mail registration fee to:
Hereford Faith & Life Church
16931 York Road
P.O. Box 400
Monkton, MD 21111
Registration may be dropped off at the church office (16931 York Road) between 10 am and 2 pm – Tuesday through Friday
Evaluations:
All new players must attend at least one basketball evaluation in the Family Life Center. Prior players are exempt.
Evaluation Dates – K through 12 Grade Boys/Girls
Saturday, December 15, between 11 AM – 3 PM
Monday, December 17, between 6 PM – 8 PM
Tuesday, December 18, between 6 PM – 8 PM
Wednesday, December 19, between 6 PM – 8 PM
Program Schedule:
First Practice – Monday, January 7, 2019
First Game – Saturday, February 2, 2019
End of Season Celebration – Saturday, March 30, 2019
Weather Notifications:
We will follow the lead of the Baltimore County website related to the Herford Zone. Please check the following link for current information. https://www.baltimorecountymd.gov/News/weather/index.html
Coaches and Assistant Coaches:
1. Coaches must be over 21 years of age and must be Safe Sanctuary* certified.
2. Teens may be utilized as assistant coaches and must be registered as such. Priority will be given to teens looking to earn service hours for school.
3. Mandatory coaches meeting prior to the season to set expectations of the program.
Practices:
1. Players and coaches are the only ones allowed on the court.
2. No playing on the sidelines or end line areas during practice.
3. Additional children are the responsibility of the parents. Please do not permit running or playing in the hallway. Outside playground is available for use.
Team Selection:
1. Teams are picked by averaging out evaluation scores to make them as balanced as possible.
2. Pairing request of kids will be strongly considered but not guaranteed.
3. Siblings may play on the same team if they are in the same age/grade group. Siblings that wish to play up must be evaluated for an appropriate skill level.
================================== Game Rules ===============================
Rules for "B" (beginner) Players:
1. No timed fouls are called
2. Travelling is called but not enforced
3. Stealing from the dribbler is not allowed
4. Double dribbling is called but not enforced
5. No fast breaks
6. Stealing off passes is allowed
7. Coaches can walk the court during game
8. Players must stay with player who has same color wristband
9. Players fouled Get 2 points – no foul shots
10. Out of bounds results in a turnover
11. Backcourt is not enforced
12. Up and down is not enforced
13. Charging is called but not enforced
14. Defense begins at half court, no full press
================================== Game Rules ===============================
Rules for "A" (Advanced) Players:
1. Stealing is allowed
2. Full court press is allowed at end of 1st and 2nd halves
3. 3 seconds in the paint results in a turnover
4. 35 second shot clock is in effect after ball is in play
5. Foul shots are permitted
6. Traveling results in a turnover
7. Up and down results in a turnover
8. 3 point shots are allowed
9. Zone defense is allowed
10. Players can foul out with 5 fouls
11. 10 Second back court shall begin when a player legally touches the ball in that team's back court except on a rebound or jump ball. In such case, the 10 second count shall start on player control
12. Each period begins with a jump ball
13. Teams get 5 seconds to pass ball in play
14. Fast breaks are allowed
15. Double dribble results in a turnover
16. Teams will switch baskets at half-time
17. Pick plays are allowed
18. Tied games at the end of regulation will have a shoot off with each team player
taking 1 shot each, most baskets wins
19. Establishing legal guarding position – when the opponent with the ball is airborne, the guard shall have attained legal guarding position before the opponent begins his upward motion with his hand/arms to shoot or pass
For More Information visit https://www.herefordumc.com/basketball/
* Additional information – https://www.herefordumc.com/safe-sanctuary-program/
Questions or concerns may be emailed to Frank Valenti – fvalenti3@gmail.com